Once again, early morning of February 5th was pierced by the sound of gunshots as pro-Mubarak supporters once again attempted to assault Tahrir Square. In order to disperse them troops shot into the air. February 5th also saw an increased military presence and organisation than on any other day of the protests and protesters once again formed a human chain, this time to stop tanks entering Tahrir Square and scuffles broke out as a General asked them to take down their makeshift barriers of debris and corrugated steel. Access to Tahrir Square was further restricted and protesters were urged to return home so life could return to normal. Taking advantage of civil unrest, an Islamist group sabotaged an Arab Gas pipeline between Isreal and Jordan, causing an explosion and an expected week long cut in supplies. False reports were also circulated that Mubarak had stepped down as NDP party leader before being discredited by State Television, however, opposition leaders continue to look for ways to remove Mubarak from power and have called on protesters to continue protesting in Tahrir Square every Tuesday and Friday until Mubarak "resigns and makes true the demands of the people."
Protesters continued to camp over night in Tahrir Square and Alexandria saw peaceful late-night protests. Despite this, gunshots were once again heard in Cairo in the early hours of February 6th, which has been dubbed by organisers as the
"Sunday of Martyrs"
. To counter claims by State Television that the majority of protesters are part of the Muslim Brotherhood, Christians held mass in Tahrir Square as Muslim protesters formed a ring to protect them, mirroring the morning of February 4th where Christians protected Muslims as they prayed. Journalists continue to be targeted, with Ayman Mohyeldin of Al Jazeera being arrested by soldiers in Tahrir Square. Al Jazeera called for his immediate release, and after seven hours of detention he was. Banks were temporarily opened once again, and people rushed to buy US dollars.
Vice President Omar Suleiman held talks with opposition parties, including the Muslim Brotherhood, in an attempt to end the mass protests yet opposition leaders claimed he did not go far enough in his proposals for greater political freedom and pledge of free elections. However, Suleiman did agree to et up a committee of judiciary and political figures to study constitutional reforms, with results due by early March.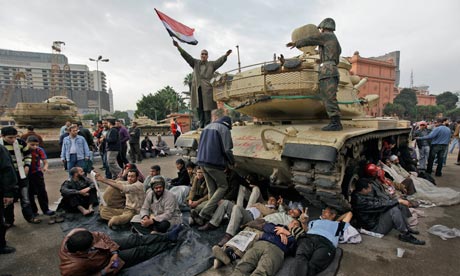 In Cairo, on February 6th, protesters were said to number in the vicinity of 1 million.