February 7th began with a symbolic funeral procession for dead journalist Ahmed Mahmoud, who was shot by security forces, along with demands for an investigation into his death. A later attack on a police station in Khargah led to at least 70 people being wounded after police opened fire on the protesters, who were demanding the ousting of a officer notorious for being heavy-handed. Google's head of Marketing for the Middle East and North Africa and the founder of the Facebook page credited for being influential in sparking the protests, Wael Ghonim, was released after being in custody since 25 January. He issued a statement reading:
First of all my sincere condolences for all the Egyptians that lost their lives. I am really sorry for their loss, none of us wanted this. We were not destroying things. We all wanted peaceful protests, and our slogan was no to vandalism. Please don't turn me into a hero. I am not a hero, I am someone that was asleep for 12 days. The real heroes are the ones that took to the streets, please focus your cameras on the right people. I am ok. (sic) God willing we will change our country, and all the filth that was taking place in the country has to stop. Together we will clean this country.
In the first cabinet meeting since protests began it was decided that 6.5 billion Egyptian Pounds (£685.8 million

)

will be allocated to cover a 15 percent raise in pensions and salaries for government employees. One protester said that protests would not end soon because of increasing concessions that the regime offers. While banks have reopened, schools and the stock exhange remain closed, with the Egyptian Stock Exchange saying it will resume work on 13 February.

Minister of Antiquities Zahi Hawass also announced that the looter-damaged

artefacts

will be restored within the next 5 da

ys and that steps will be made to reopen Egypt's many famed archaeological sites, which have been closed since protests began. The museum is now being guarded by the arm

y. Former minister of the interior Habib El-Adli is set to face prosecution in a military court after giving orders to fire at protesters and for obstructing peace in Egypt, as well as his role in the 31st December bombing of al-Qiddissin Church in Alexandria. State-owned newspaper Al-Ahram has also declared its support for the protestors and stopped supporting the ruling regime, whilst German newspaper Der Spiegel has reported an unconfirmed rumour that Mubarak was planning a "prolonged hospital stay" in Germany, which would effectively have him leave the presidency and pave the way for a face saving transition of power.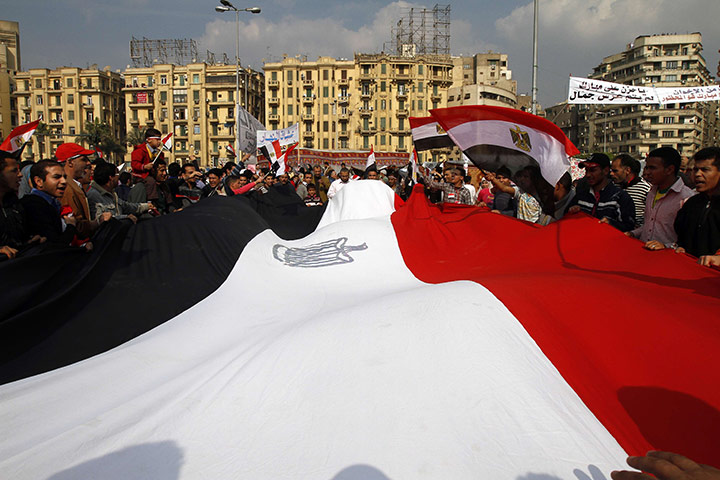 February 8th, or "Day of Egypt's Love" saw over a million people gather in and around Tahrir Square in one of the biggest protests yet, with many being reported as joining the protests for their first time, along with around 1,000 protesters gathering outside parliament to demand Mubarak's resignation. Workers at the Suez Canal have also went on strike. Journalists also gathered in the lobby of the headquarters of the state-owned newspaper Al-Ahram's to protest against corruption and call for more press freedom.
In a statement made on Egyptian state television, Vice President Omar Suleiman announced the formation of two independent committees for political and constitutional reforms, both starting work immediately. One committee would carry out constitutional and legislative amendments to enable a shift of power; while the other committee would monitor the implementation of all proposed reforms. He said that wider press freedoms were under consideration and that he would produce a checklist of what was needed to hold free elections. He also said that plans were underway to organise a peaceful transfer of power.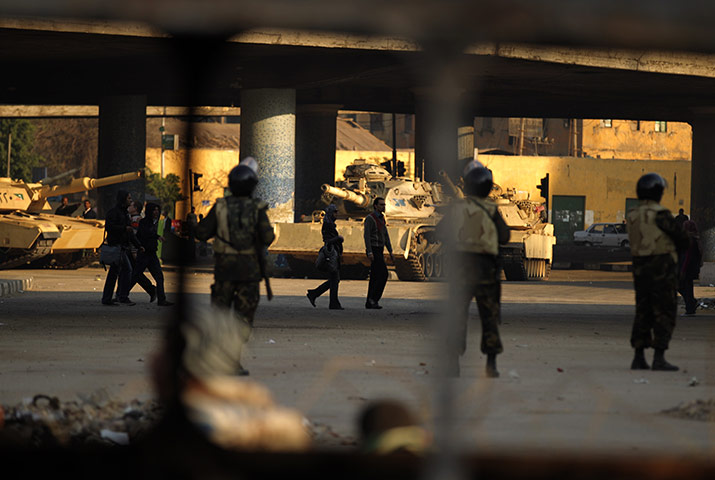 On February 9th, a number of protesters moved from Tahrir Square to set up camp in the area outside parliament, demanding the assembly's immediate dissolution and putting up a sign saying: "Closed until the fall of the regime." The cabinet offices in Cairo had been evacuated and officials were relocated after anti-government protesters gathered outside the building. Strikes continued across the country, particularly in Alexandria, Cairo and Suez, demanding higher wages and better treatment from employers. Violent clashes were also reported in Wadi al-Jadid, where police stations and NDP party building had been destroyed, along with several deaths and hundreds of injuries. Egyptians living outside the country have also returned to join the anti-government demonstrations. The Muslim Brotherhood continued to call for Mubarak's resignation and Culture Minister Gaber Asfour resigned after one week in office, claiming health problems.